By John McAdams
While there's absolutely nothing wrong with hunting whitetail deer, feral hogs, and
turkeys every year, many hunters from the south dream of a big game hunting
adventure somewhere else in the world. Fortunately, there are some great value hunting
opportunities available for those willing to put in a little work and get out of their
comfort zone.
Wyoming Pronghorn Hunt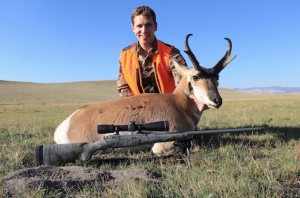 A Wyoming pronghorn hunt is one of the most affordable big game hunts out west.
Particularly if you're not really concerned about shooting a monster buck, there are
several units that non-residents can draw tags for every year. Don't get me wrong: these
units still produce a few giant bucks along with plenty of nice, mature pronghorn, but they just aren't premier units managed for exceptional trophy quality.
Additionally, because there is so much public land in the state, it's possible to have a
great pronghorn hunt without using an outfitter. Just use a service like Go Hunt, On X
Maps or Wyoming's free hunt planner to research units as well as find a place to hunt
and camp. With a little bit of desk scouting, you can really set yourself up for success by
the time pronghorn season rolls around and have a great time hunting speed goats
across the open plains.
Montana Mule Deer Hunt
There's just something about mule deer that makes them irresistible to many deer
hunters. I grew up hunting whitetails and I still remember being in shock after seeing
my first mule deer buck (which, looking back on it, wasn't even that big for a Mulie).
Montana is a great destination for an affordable mule deer hunt, especially if you're a
rifle hunter. Similar to hunting pronghorn in Wyoming, deer tags are easy to come by
for non-residents in Montana and the state also has a lot of public lands.
Additionally, the end of the rifle deer season in Montana overlaps with the rut, which, as
any deer hunter knows, makes for a lot of deer movement during daylight hours. Partly
due to that reason though, Montana isn't known for producing giant mule deer bucks.
That being said, this is still an excellent hunting opportunity, especially for a hunter who
wants an affordable outfitted or DIY hunt and isn't really concerned about taking a
Boone & Crockett deer.
New Zealand Tahr Hunt
New Zealand may be best known its incredible red stag hunting. However, Himalayan
Tahr is one of the most underrated animals to hunt there. Originally from Nepal and
northern India, Himalayan Tahr were introduced to New Zealand many years ago and
have thrived in their new home.
Since they inhabit such rough country, Tahr is a challenging animal to hunt. However,
they have stunningly beautiful coats and inhabit the absolutely magnificent country. To top it off, they are a whole lot less expensive to hunt than Rocky Mountain Goat or Bighorn Sheep. So, if you want a serious but affordable mountain hunt, then you need to head to New Zealand's South Island for the Tahr hunting experience of a lifetime.
Check out more great hunting articles by John McAdams on his hunting blog. Learn
more about the New Zealand hunting packages Big Game Hunting Adventures offers
on their website.